Archive for January, 2009
by Admin on January 19th, 2009
What Are "Blood Diamonds?"
The movie, Blood Diamond, traces the path of a large pink diamond found in Sierra Leone in the 1990's by a fisherman working as a slave in a rebel-controlled diamond mine. That diamond changed and ended many lives and the story of that stone carries a strong social message. The story is interesting fiction but it is based upon facts. The story can help you appreciate how a mineral resource can fuel the oppression and slaughter of thousands of people. This is not a first time phenomenon. It happened before in Africa with ivory and gold.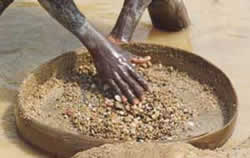 What Are "Blood Diamonds?"
Blood Diamonds, also known as "Conflict Diamonds" are stones that are produced in areas controlled by rebel forces that are opposed to internationally recognized governments. The rebels sell these diamonds, and the money is used to purchase arms or to fund their military actions. Blood Diamonds are often produced through the forced labor of men, women and children. They are also stolen during shipment or seized by attacking the mining operations of legitimate producers. These attacks can be on the scale of a large military operation. The stones are then smuggled into the international diamond trade and sold as legitimate gems. These diamonds are often the main source of funding for the rebels, however, arms merchants, smugglers and dishonest diamond traders enable their actions. Enormous amounts of money are at stake and bribes, threats, torture, and murder are modes of operation. This is why the term "blood diamonds" is used.
What is the "Kimberly Process?"
The flow of Conflict Diamonds has originated mainly from Sierra Leone, Angola, Democratic Republic of Congo, Liberia and Ivory Coast. The United Nations and other groups are working to block the entry of conflict diamonds into the worldwide diamond trade. Their approach has been to develop a government certification procedure known as the "Kimberly Process". This procedure requires each nation to certify that all rough diamond exports are produced through legitimate mining and sales activity. All rough diamonds exported from these nations are to be accompanied by certificates. These certificates state that the diamonds were produced, sold and exported through legitimate channels. The certification process accounts for all rough diamonds, through every step of their movement, from mine to retail sale. Retail customers buying a cut diamond are encouraged to insist upon a sales receipt that documents that their diamond originated from a conflict free source.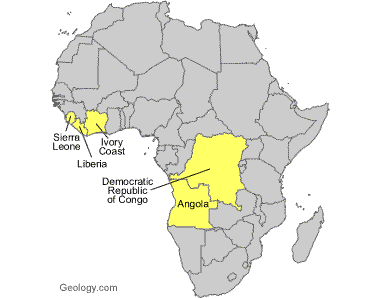 "Conflict Free Diamonds"
Nations who agree to participate in the Kimberly process are not permitted to trade with nonmember Nations. The Kimberly Process is believed to have significantly reduced the number of Conflict Diamonds that are reaching international gem markets. Today 71 governments and several non-government organizations abide by the Kimberly Process. The only two nations which remain under Kimberly Process sanctions as of December, 2006 were Liberia and Ivory Coast. The World Diamond Council estimates that 99% of all diamonds are now conflict free.
Legitimate Diamond Trade
The legitimate diamond trade provides jobs for over 10 million workers and brings prosperity to areas where this activity occurs. Support of the Kimberly Process by all nations and consumers can convert slavery into jobs and smuggling into respected commerce. The efforts are working. Today, about 99% of all diamonds produced come from conflict free sources.
by Admin on January 8th, 2009
As the world's most concentrated, portable and anonymous form of wealth, diamonds make an ideal vehicle to launder money from and raise money for criminal and terrorist operations. Throughout the 1990s, murderous rebel factions in Angola and Sierra Leone used their country's diamond riches to buy arms and wage war against legitimate governments.
These illicit gems became known as "conflict diamonds" and the jewelry industry was taken to task by human rights groups for not doing enough to stem the flow of these stones. The criticisms were justified. At one point, it was estimated that at least 15% of the world's rough diamonds were coming from rebel groups in Africa and being used to fund weapons procurement which, in turn, prolonged brutal wars.
As the media began to publicize atrocities by rebel groups selling conflict diamonds, there were calls for diamond boycotts in Europe and America. The trouble with such actions was that diamonds also contributed to the prosperity and development of African countries like Botswana and Namibia. So boycotts would have done as much, if not more, harm than good.
The gnawing question remained: How should the diamond industry deal with conflict diamonds?
In May 2000, the government of South Africa proposed a plan to stop the traffic in conflict diamonds using a certification process that would give assurance that diamonds did not originate in areas controlled by forces trying to overthrow internationally recognized governments. By certifying that a diamond came from a legitimate origin, rebel bands would be unable to sell contraband diamonds and eventually be starved of the funds needed to perpetuate civil wars. This, it was hoped, would lead to peace in diamond-producing regions. It would also assure consumers that the diamonds they were buying were free of political taint.
Called the "Kimberley Process" (after South Africa's famous Kimberley diamond mine), the plan was adopted - in principle at least - by the United Nations in December 2000. It took two more years to work out the kinks and persuade 50 or so governments (one of them America) with either or both diamond processing and consumption sectors to sign on. In January 2003, the Kimberley Process took effect. Here's how it works:
Each of the signatory countries allows only imports of documented rough diamonds that can be traced back to legitimate sources. Those diamond rough shipments that fail to meet Kimberly certification requirements are refused entry. One of those requirements is for importers to affirm in writing on each invoice that the diamonds they accompany are bought from legitimate sources and in compliance with UN resolutions. If such a declaration is missing from an invoice, purchasers are to cancel the transaction.
After diamonds proved in accordance with the Kimberley Process are admitted into a country and converted into polished stones, governmental control stops and a voluntary process of industry self-regulation begins. This consists primarily of affirming in writing at every stage of wholesale distribution that diamonds are not conflict diamonds. Even secondhand diamonds should be certified as nonconflict.
The Kimberley Process ends one step shy of the retail counter. Present provisions leave declarations of a diamond's legitimacy as to origin a voluntary matter. Consumers can request such written warranties from their suppliers, but sellers don't have to make them. Given all the steps that have been taken beforehand to assure the public that diamonds are legitimate, this is very understandable.
by Admin on January 8th, 2009
Whiteflash CEO Debi Wexler was on hand to discuss diamonds that go "beyond conflict-free" with Hollywood's elite in the "Iced Out" Emmy Suite prior to the 58th annual Emmy Awards.
Geena Davis, Larry King, Debra Messing and Corey Feldman were among celebrities interested in the Whiteflash promotion, which centers on the sale of certified conflict-free diamonds while donating profits from those sales to fund relief for families in still-conflicted regions of Africa.
Davis selected a beautiful Whiteflash Dreams Of Africa™ pendant from among several styles. Whiteflash has produced this pendant to raise awareness for and bring financial relief to African children, particularly those affected by the illicit trade of rough diamonds.
"The pendant's sparkling conflict-free diamonds symbolize innocence and the sapphires symbolize truth" says Wexler. "The center stones represent Africa and the glittering spirals portray our dream of expanding awareness of this plight to the outer circle, which symbolizes the world we all live in." Worn near the heart, Wexler's artistic expression is intended to touch the hearts of all who share the Dreams of Africa.™
Wexler comments, "The political obstacles in these countries are historically considerable. Being simply 'Conflict-Free' doesn't solve the problems in Africa." Wexler believes the information age presents opportunity beyond the protectionist work the Kimberly Process and the USA Patriot Act are doing.
All diamonds at Whiteflash have been secured through legitimate sources not involved in funding conflict and in compliance with United Nations Resolutions, in accordance with the Kimberly Process and the USA Patriot act. 
To find out how you can do more to assist in humanitarian efforts, or to purchase your own Dreams Of Africa™ pendant to fund relief, contact Whiteflash.
About Whiteflash.com 
Whiteflash.com is the first company in the U.S. to offer an exclusive brand of Hearts & Arrows diamond and bring the sheer beauty of "super ideal cut" to the Internet. Debi Wexler, a computer entrepreneur, founded Whiteflash.com in 1999 bringing an expansive selection of loose diamonds to the Internet, including an exclusive brand of Hearts & Arrows diamonds. Whiteflash ACA is unmatched in its brilliance, fire and sparkle and remains the only Hearts & Arrows diamond sold online with advertised standards and a "true patterning" guarantee. Whiteflash.com also offers original, handcrafted platinum and gold settings, diamond engagement rings and wedding bands and custom designed jewelry. For more information, log on to www.whiteflash.com or call 877.612.6770. 
by Admin on January 8th, 2009
iVillage selects the Petite Dreams of Africa pendant for its "Beauty & Style" Top 10
http://slideshow.ivillage.com/beauty_style/ivillage_weekly_top_10_conflictfree_diamonds/diamond_dreams.html
Diamond Dreams 
If you want to add some sparkle to your neckline that's both charming and charitable, consider WhiteFlash.com's Petite Dreams of Africa Pendant, pictured here in yellow gold with one pink sapphire. The pendant is part of the company's "Dreams of Africa" jewelry line in which 100% (yes, 100%) of the proceeds go to World Centers of Compassion for Children International (WCCCI).
Shining example: "Conflict diamonds are still a big unknown for the consumer," says WhiteFlash.com CEO Debi Wexler. That's why her company created the Dreams of Africa line to give back to children in areas affected by the illicit diamond trade. "This is a 52 billion dollar industry, so even less than 1 percent of that being conflict is too much," she says. "With that, wherever you're shopping, you should ask the sellers about their stance on conflict-free diamonds."
The 14k Yellow Gold Petite Dreams of Africa Pendant is $283 at WhiteFlash.com. Click here to learn more at DreamsofAfrica.org. 
by Admin on January 8th, 2009
Oscar winner Jennifer Connelly (A Beautiful Mind) plays an American journalist named Maddy Bowen who travels to Sierra Leone to do an exposé on the diamond industry in the action drama, Blood Diamond. Maddy's search for the truth about the industry's involvement in dealing with conflict diamonds leads her to Danny Archer (Leonardo DiCaprio), a diamond smuggler she hopes to convince to provide her with the details she needs to break the story.
The Appeal of Blood Diamond: "I thought it was a very powerful script, a very powerful story, and I thought it would make a very moving and exciting film. I thought, 'How fantastic to make a good, solid action drama that at the same time is able to raise questions and talk about some of the important issues that are still relevant today.'"
The Attraction of Playing a Journalist in Blood Diamond: Connelly has a journalist friend who has been writing about conflict diamonds. That friend proved to be an excellent resource for Connelly as she got into the character of Maddy Bowen. "She was incredibly helpful. I met a number of women who had actually been in Sierra Leone at that time writing stories on conflict diamonds. I got all the information I possibly could from them, some of it quite superficial, really. Things like what kind of notebooks did you have, what shoes did you wear, who did you hang out with - practical everyday things that I could make specific character choices. What she should look like and that sort of thing. And then also just in terms of what she saw and she felt [about] that, that conflict, in limited terms of what she could do on a daily basis to help people that she saw.
The information that I got from all over was so compelling, and I think the film did a great job of representing and giving a really clear depiction of what actually happened. I think as viewers watching the film, you can get a good glimpse of what reflects a lot of what I heard from these women, and from a lot of reading that I did. It's just really one of the great tragedies, I think, of our time."
Analyzing Her Character's Relationship with Leonardo DiCaprio's in Blood Diamond: "I really like the balance that is struck here in the film. There's a lot for them to overcome in terms of a relationship. She says at the beginning of the film they're pretty much opposite sides off the fence, and yet I think that my character understands that these are really difficult times and very difficult situations and no one is all good and no one is all bad. I think that she…sees the good that is in Archer's character. So I think that's a reasonable place where they come to, where they're attracted to each other, they're interested in each other, they've gained respect for one another, despite [the fact] they seem very much at odds at the beginning. And yet it's not cheap. It could be something actually quite meaningful, if they had had different circumstances and had had more time together."
There's Definitely Chemistry Onscreen Between Connelly and DiCaprio: " "If you're responding to the chemistry between us, it's probably a testament to our great working relationship that we had. I had so much respect for him and I really enjoyed the way that he works. I found him to be an incredibly generous actor, truly generous, remarkably unselfish in the way he approaches his work. Very interested in storytelling and supporting his fellow cast members. It was really such a delight talking about scenes and working on them together.
I really liked the balance it struck. I thought it was realistic; I thought it didn't take away from either of these characters. They were strong in themselves, but it was human and understandable, their attraction to one another. I really enjoyed working together with him to find that balance."
Did the Movie Change Connelly's Attitude Toward Diamonds?: "Well, I'm wearing diamond earrings right now that are from Bulgari. I have done research into retailers that can certify their diamonds are conflict free. I don't think the film suggests a boycott on African diamonds, because there are human rights implications in the boycotting of African diamonds as well. I think what I got out of the film is a desire to be a more ethical consumer. I went about doing some research, and there are companies like Bulgari, like Tiffany, who are striving to be clean and accountable and that provide written guarantees that their diamonds are conflict-free, and that will also provide consumers with educational materials."
The Challenges of Blood Diamond: "I have to say it was a joy making the film. I loved my time there, so externally there were no huge obstacles to overcome. The cast were a delight. Djimon [Hounsou] and Leo were both fantastic to work with. Ed [Zwick] an absolute joy. I loved being in Mozambique and South Africa, so things were going pretty swimmingly for me. I'd say just sort of the most challenging thing was my own head, my conviction that I can always be better and do better. So just putting up with that, and the subsequent endless hours of considering and wondering that I always put myself through and trying to make choices for a character."
On Serious – Even Gloomy – Roles: Connelly joked that she's not a gloomy person. "I was very happy for the film," said Connelly. "I think also that the character in Little Children — I don't think she was gloomy at all. I think she was very positive and had a good career going for herself, and a family. All I can say is that I had a great time playing this woman who is out to experience all she can and learn all she can, and do as much good as she possibly can. I had a blast doing it."
Connelly continued, "I loved her spirit, her enthusiasm, her dedication, her unflinching commitment to her work and to trying to accomplish something good, but also her absolute zest and love of life and new experiences and adventure."
by Admin on January 7th, 2009
For the third time Whiteflash creations are appearing in Bridal Guide.  This time it's our unique Dreams of Africa cufflinks.  An initiative to help children suffering in Africa, the Dreams of Africa program sends 100% of profit made on a unique line of creative jewelry designs to our charity partner, the WCCCI.
.
by Admin on January 7th, 2009
"Mini Dreams of Africa" Pendant
100 percent of the profits from this elegant, lacy, and conflict-free diamond pendant collection will be donated to the World Centers of Compassion for Children International. $1,275, Whiteflash.com.
Check this diamond pendant and many other beautiful pieces on Lucky Online!
So, What Else Can I Do to Help?
1.Tell your friends about the 5 C's of diamond buying:
CARAT * COLOR * CLARITY * CUT * CONFLICT-FREE
2. Educate yourself and everyone you know about the Kimberley Process, the international diamond regulatory system at www.DreamsofAfrica.org
3. Urge the diamond industry to use its vast resources to address some of the complex social factors, including poverty and lack of governance, that contribute to civil wars funded by diamonds in Africa.
4. Buy, wear and support the Dreams of Africa cause. We at WhiteFlash have created a designer range of custom jewelry created to help the victims of blood diamonds, also known as conflict diamonds. 100% of all profits of the Dreams of Africa Line go directly towards relief efforts. This line of jewelry worn by your heart will touch the hearts of all who share our Dreams of Africa.
by Admin on January 7th, 2009
Whiteflash's conscious kids collection, Awear, introduced this year as a way to wear fun jewelry charms while donating to a charity that builds a school for children impacted in war torn areas around the world. 25% of the profits on Awear pendant sales are earmarked for WCCCI, World Centers of Compassion for Children, to assist this great organization in building schools which impact children who suffer the effects of illicit diamond trading.
Whiteflash's conscious kids collection, Awear, introduced this year as a way to wear fun jewelry charms while donating to a charity that builds a school for children impacted in war torn areas around the world.
conscious kids collection, , introduced this year as a way to wear fun jewelry charms while donating to a charity that builds a school for children impacted in war torn areas around the world.
Sold exclusively at WhiteFlash.com, the AWEAR line of trendy and classic diamond charm pendants retail from $250 to $1,500, making them ideal gifts for a birthday, graduation, Bat Mitzvah, first communion, confirmation or any other meaningful occasion when a child first learns that the future belongs to her… and that you hope she'll take care of what challenges life brings for her and the world around her.
by Admin on January 7th, 2009
Gold may glitter and Diamonds may be a girl's best friend, but there's more to jewelry than meets the eye – especially when it comes to the environment and human rights.
Body + Soul, http://www.body+soul.com/ presents  Dreams of Africa™, http://www.dreamsofafrica.org/ an initiative of Whiteflash.com to provide an outlet to create awareness of conflict diamonds. Body + Soul unearthed the truth about metals and gems, and found sustainable alternatives that really sparkle, including Whiteflash's Dreams of Africa™  pendant.
Geena Davis and Debra Messing and many others are ambassadors to this lovely cause. Whiteflash's executed the design development of Dreams Of Africa™. This line of jewelry was created in order  to raise awareness for and bring financial relief to African children, particularly those affected by the illicit trade of rough diamonds.
Click on http://www.dreamsofafrica.org/ for more information on Whiteflash's initiative on conflict diamonds and the Kimberly Process.
Click on www.WCCCI.org to find out more about Whiteflash's alliance with the organization selected to receive a percentage of profits on sales from our Dreams of Africa™ line of jewelry.
by Admin on January 5th, 2009
You are looking for a diamond with a good cause. You're a diamond lover. You've got countless pieces of jewelry studded with diamonds.  You are looking to find an engagement ring with the right cause. You are one of those people who just can't resist the glitter and brilliance that goes with a diamond. Then you learn about the existence of blood diamonds. Your world is suddenly turned upside down.
That may be a satiric narrative but the subject is dead serious. Blood diamonds are used to fund wars and other brutal activities in certain parts of the world. Diamonds sold in this illicit trade promote violence and kill people; you want to make sure that your own non conflict diamonds. .
Many sectors emphasize the difference between "clean" diamonds, often called non conflict diamonds and "blood diamonds". Even the UN General Assembly was quick to point out that diamonds mined and sold legally help the economy and promote prosperity in certain parts of Africa. In a resolution made in December 2000, they were also emphatic in stating that the sale of blood diamonds only brings about pain and suffering. That is why restrictions and standards have been put in place to differentiate non conflict diamonds from the blood diamonds.
 
Non Conflict Diamond Detection Points
The useful question would then be: How do I know if a diamond is a conflict diamond or a conflict free diamond? For practical  purposes, the answer would really be: "There is no absolute way you can tell, especially if the diamond has already been polished." Difficult? Sure.
This is challenging  if you want to know whether or not the diamond you already own is "tainted". However, there are still some precautionary measures which are in place and which you can take in order to avoid purchasing a conflict diamond. First of all, the international community has established a system wherein a "Certificate of Origin" is required. There are known areas from where blood diamonds originate. With these certificates, you can have a way of knowing the origin of the diamond. Of course, certificates can and have been forged. Stricter measures and even stricter implementation is needed in order for this system to work efficiently.
In addition to "Certificate of Origin", some countries have set up their own measures in order to ensure that blood diamonds are not released in their markets. Amnesty International advise is  asking four questions when you are out shopping for diamonds. First, ask the salespeople how you can be sure that what they are selling are non conflict diamonds. Second, ask them if they know where their diamonds come from. Third, ask for the company policy on purchasing diamonds. Fourth, ask if they can show you a written guarantee from their suppliers. Most likely if they  are unwilling to help you out with your questions, they might have something to hide. They might be unable to answer you simply because they themselves do not have assurances as to the nature of their goods. Additionally, the jewelry company may not have educated their sales people on what conflict diamonds are about. In such instances, Amnesty suggests that you go some place else.
These questions should give you assurances  that you purchase only non conflict diamonds. Unless everyone from source to manufacturer educates and cooperates and there is international transparency, there are still chances that some blood diamonds may get through.